Tours and Activities
In Puerto Baquerizo Moreno and the Island of San Cristóbal, visitors have multiple options to visit, enjoy and explore varied attractions, starting with the beach itself next to the Hotel with its colony of sea lions and other species of Galápagos; the town and its Malecón, two additional beaches within walking distance: Playa Mann and Punta Carola; the Nautical Museum that is a few steps from the Hotel, which exposes an interesting history of human colonization on the Island; the Interpretation Center of the Galapagos National Park; the "Lobería", just outside the town center, with a stable colony of adult sea lions (locally called "sea wolves") and, at the eastern end of the bay, Cerro Tijeretas, which is reached by a dirt path and then a wooden walkway leading to the center of a frigatebird colony that nests in the area along with other species of Galapagos marine birds as well as the famous Darwin finches and spectacular views of Punta Carola. At the fishermen's wharf you can occasionally see the beautiful golden rays.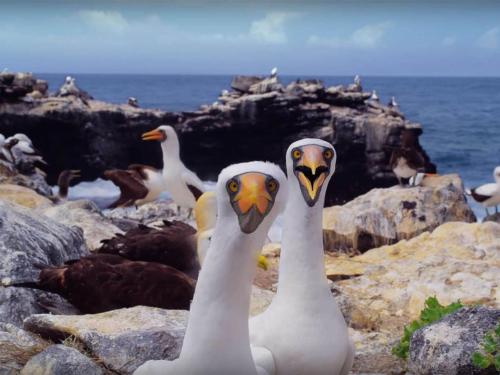 We can organize or coordinate private or shared tours to nearby visitor sites such as Isla Lobos with its colonies of blue footed boobies, frigates, pelicans, gulls and Galápagos cucubes. Playa Ochoa offers its golden sands surrounded by mangroves, an ideal place to swim or snorkel. The most spectacular and photogenic attraction near Puerto Baquerizo is the famous "León Dormido", an impressive formation of remains of an ancient ash volcano split in two, with towering vertical walls and a narrow channel of turquoise water in the middle.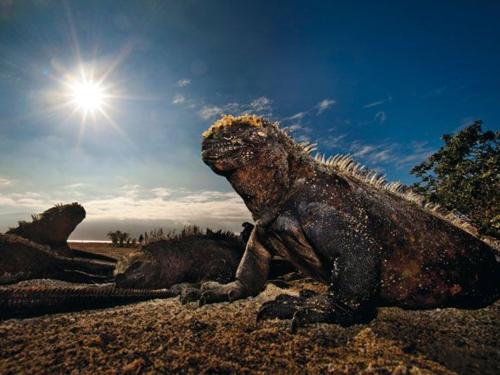 The site can only be traveled from an authorized boat to admire large nesting colonies of seabirds in the crags and marine iguanas in the lower parts by the sea. León Dormido is a great place to snorkel or dive deep. All these tours are conducted by Certified Naturalist Guides by the Galapagos National Park. Other locations to visit in San Cristóbal include Cerro Brujo, Punta Pitt and Puerto Grande.
Among the marine activities, in addition to swimming, snorkelling and deep diving, San Cristóbal is a renowned site for surfing and attracts more surfers from all over the world every year. Boat tours are also organized for sport fishing, another activity of increasing popularity.
In the upper part of San Cristóbal some of the main attractions include the impressive lagoon of El Junco, the largest body of freshwater in the entire archipelago, as well as the Giant Tortoise Breeding Center of the National Park. At the southwest end of the island is Puerto Chino, another beautiful beach for swimming, snorkeling or surfing. These visits require ground transportation. All visits to National Park areas must be accompanied by Naturalist Guides prepared and licensed by the Galapagos National Park.